SPRINKLER SYSTEM SERVICE & MAINTENANCE
In order to keep your lawns and gardens lush and healthy your sprinkler system should be maintained to optimum efficiency. Regular seasonal maintenance and periodic adjustments should be performed.
• Protect the entire system and provide continued warranty protection
• Adjust for seasonal temperature changes and to ensure optimum plant growth
• Ensure maximum water efficiency
• Most important is to protect your system from freeze damage and extend the life of your sprinkler system

WINTERIZATION (BLOWOUT)
Freezing temperatures can cause severe damage to your sprinkler system due to water freezing in lines; the frozen water will expand and rupture the pipes making repairs difficult to pinpoint and fix.
• We will close all water sources
• Shut off all electrical power to the system
• Use high pressure compressed air to eliminate all water from the underground lines. Preventing any residual water from freezing and damaging the system

SPRING START-UP
• We will open all water lines and electrical sources and charge the system
• Check all spray heads for proper operation
• Ensure that the spray heads are covering the intended areas completely
• Program the timer/controller for optimum seasonal watering efficiency
• Check all zones and lines for leaks
• If necessary make any adjustments or repairs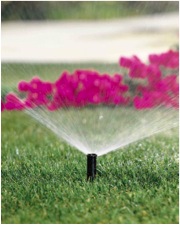 MID SUMMER SYSTEM TUNE-UP
• We will check and adjust all spray heads
• Adjust the timer to avoid over or under watering due to changing seasonal weather patterns
• Check any drip or micro sprays for proper operation
• Inspect all zones for leaks
• Adjust system to allow for plant growth and other landscape changes

BACK-FLOW PREVENTER TESTING
Your local water authority may require an annual back-flow prevention test to ensure that the back-flow prevention device is preventing any irrigation water from back-siphoning into your drinking water.
Our Certified back-flow testers will perform this test on your property every three years for residential systems and annually for commercial systems.

PERMITS
A plumbing permit must be obtained before any sprinkler system is installed.
Halls Earthservice Irrigation will apply for and obtain all proper applications and permits in order to comply with all building codes.

REPAIRS, RENOVATIONS, UPGRADES
Landscape changes, renovations, may require sprinkler repair or modification, regardless if Halls Earthservice Irrigation installed the system. We offer repair options and free irrigation repair estimates to ensure a properly operating sprinkler system.


Call Today For A Free No Obligation Consultation
250-652-0112