RESIDENTIAL SPRINKLER SYSTEMS
Halls Earthservice Irrigation Inc. started installing residential automatic sprinkler systems back in 1977, since then we have grown to be Vancouver Islands premier irrigation professionals with over 10,000 systems installed . We have never forgotten our core customer base is you, the residential customer.

Our dedicated team of IIABC Certified Installation Specialists look after your every irrigation needs including.
• Sprinklers System design and consultation.
• Custom sprinkler installations.
• System remodelling, renovation & repair.
• Servicing and maintaining your system.
• Drainage, and low voltage lighting.
We install and service all major brands of sprinklers including Rainbird, Irritrol, Toro, Hunter, Signature, thousands of our sprinkler systems are 20 years old or more and still working perfectly today.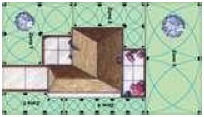 IRRIGATION CONSULTANT (SPRINKLER SYSTEM DESIGN & QUOTATION)
When you first call Halls Earthservice Irrigation you will speak to a real live person who will put you in contact with our Irrigation Design Consultants who will book an appointment to meet with you to review your irrigation needs. They will come to your property right away and draw up a comprehensive scale drawing of your yard or work with your landscape plans and map out exactly where each pop up or riser type spray head, rotor head, drip or micro system will be installed.

Utilizing optional water saving nozzles, wireless rain sensors, in ground moisture sensors, or state of the art satellite or ground based weather stations. Our design will optimize area coverage and minimize water usage delivering just the right amount of water to all areas at just the right time, ensuring that our mission statement holds true. "Making Every Drop of Water Count" We will also make sure all sleeves under driveways and sidewalks are in place in order for us to access all planting beds and turf areas, a typical sleeve is 2-3" PVC pipe this is usually to be installed by others before concrete is poured or pavers are installed.

We are Vancouver Islands only IIABC Certified Residential & Commercial Contractors. We are also IIABC Certified Residential and Commercial Irrigation Designers, trained to design & install irrigation systems right, the first time. Once the plan, quotation and permits are finalized & signed off by the owner or contractor the installation team moves into action.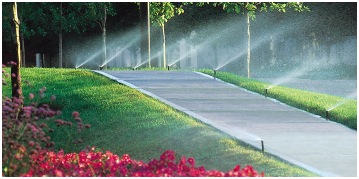 RESIDENTIAL INSTALLATION
An experienced team of Certified Irrigation Technologists will arrive on time & on the date specified. The landscape areas to be watered will be reviewed on site with the Irrigation Consultant, Installation Foreman and the Homeowner or Contractor to make sure the spray heads are flagged for proper placement and coverage, the timer location is determined and marked for installation in a convenient interior or exterior location, and that electrical power for the system is accessible via a 110V electrical outlet. The source connection from the meter or hose bib is established, valve box position shut off, and blowout, is determined. Trenches are typically dug by hand, trenching machine, or a pipe puller. All pipes are placed in the trench and connections including DCVA Double Check Valve Assembly (Back-flow Preventer) Main shut off, & blowout connection are installed and located off the main water supply usually near the water meter. These are located in a valve box flush with the landscaping in a planting bed or in the lawn area. Then lateral piping is placed and spray heads attached as per the flagging layout.

Each spray head or riser spray will be mounted on a triple swing joint assembly to enable full adjustability & to compensate for changing grades or adding soil or turf after the system is installed. This also allows flexibility in the pipe system vehicles happen to run over a sprinkler head it will cause minimal damage, this feature is standard on all our installations at no extra charge. Once all piping & components are placed in the trenches the system is pressure tested and checked for leaks when it passes inspection the trenches are backfilled and the sod replaced, if it was removed.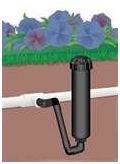 OPTIONAL WATER SAVING DEVICES
Save up to 50% on your Water bill with these eco friendly products.
If you have opted to install any of our water saving devices they would be installed at this point enabling you to minimize water wastage. Your water savings will more than compensate you for installing one or more of these products. Wireless Rain Sensors automatically detect rain and shut off the programmed sprinkler system from coming on in the rain, overwatering and wasting water. In Ground Moisture Sensors detect the amount of water absorbed by the soil to a specific depth shutting off the programmed sprinkler system so as not to overwater or activate if soil conditions are too dry. Weather Stations detect rain, wind speed, barometric pressure and adjust watering scheduling automatically to compensate for on site weather conditions. Toro Precision Nozzles Save up to 30% on your water bill by replacing your existing nozzles with these nozzles that use about half the standard amount of water. Satellite Weather Stations feed data to the controller on site and adjust automatically to plant type, soil type, slope conditions, local weather patterns and conditions via satellite weather tracking.
Sprinkler System Review.
Once the system is completed, and tested, the foreman will typically do a walk through tutorial of the system with the customer.
• Timer/controller is activated and all functions reviewed with customer.
• Sprinkler zone is activated one at a time and checked for proper coverage.
• A schedule is set i.e. Monday, Wednesday, and Friday.
• Run time is chosen according to the season i.e. 15 Minutes per zone.
• Start time is set for the system to activate i.e. 5:00 AM
• The system is installed and ready to provide many years of trouble free service.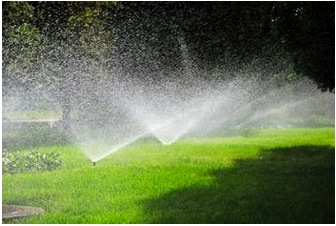 PREMIUM PREVENTATIVE MAINTENANCE SERVICE AGREEMENT
Maintenance packages allow us to more efficiently serve you by offering priority scheduling, keeping costs down and minimizing water consumption. Regular pre-scheduled service ensures we can protect the investment you have in your sprinkler system, lawns & gardens.
Includes:
(A) Spring Start up
• Pressurize your sprinkler system.
• Activate each zone with the timer & check for head to head coverage.
• Check for overwatering.
• Check for low heads / tilted heads.
• Check & clean plugged nozzles & filters on spray heads & rotors.
• Check for low or high pressure.
• Perform minor repairs.
• Check rain sensor (if applicable).
• Replace back-up battery in timer if required).
• Program your controller for CRD watering restrictions schedule.
(B) DCVA Back-flow Preventer testing
• We will test your back-flow prevention device and ensure it conforms to CRD requirements.
• DCVA (double check valve assembly) must be tested every 3 years for Residential and Annually for Commercial.
C) Parts and labour
• All parts and labour are 10% off our regular rates.
• Small repairs required are routinely performed during our service visits resulting in a material cost only to the home owner and saving further on labour expense.
(D) Winterization (System Blowout) & shut down
• We will shut off and drain the complete system.
• Blowout all sprinkler lines.
With the above blowout we warranty the entire sprinkler system from the source connection, against freeze damage from the source out. Make note of any repairs that are needed upon spring start up and inform you before of the cost before we make any repairs or modifications.With the above Premium Maintenance program this will automatically extended your original 1 year installation warranty on parts and labour to a 5 year warranty.



Call Today For A Free No Obligation Consultation
250-652-0112